Miatas at Myrtle Beach II - Prologue
by Alan J. Claffie
We got the Miata with a lot of help from miata.net, where everybody knows his stuff and, even after years of ownership - in some cases, eighteen years of ownership - they still find perverse pleasure in driving and working on these delightful little cars.
In addition to that knowledge, they have get-togethers in different parts of the country. The biggest one we're aware of is Miatas at Myrtle Beach, even though that is only one year old. But the second one is around the corner, and we were reading about it back in December and joking about how it'd be something fun to do.
So Kate said that we should go, and later that night we had our room reserved at the host hotel and our cheap registration fee paid. Then the long wait for the end of March began.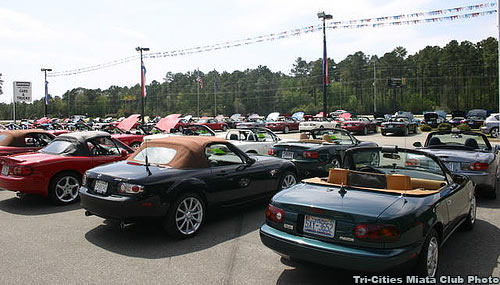 It's going to be a fun time, and it looks like three of us from Chesapeake Area Roadsters will be making the roadie. It'll be a rough ride, spending eight or nine hours in a rough-riding convertible barely tuned for highway travel, but between the miniature convoy heading out of southern Maryland and the anticipation of finding other Miatas along the way forming a longer and longer roadster parade as we get closer and closer to our destination, there'll be plenty to keep our interest piqued.
There are at least four major events planned for the two days, and we plan on partaking in all of them. Friday kicks off with the TSD rally, which should be interesting simply because it's been about a hundred years since I've done one, and Kate's never done one. She'll assume driving duties for this and I'll be the navigator.
Also on Friday will be a poker run, which is a much more laid-back version of rallying. Between the two, there should be enough Miatas running around in and around Myrtle Beach to leave the locals wondering just what the heck has taken over the town.
Out of the car, there's a miniature golf tourney at the Sea Mist. We've been practicing but the results of those rounds have not been encouraging.
Saturday has the car show at a local Mazda dealer - we'll have much more on this later - and what should be a very cool parade down the main drag. Imagine going to the beach and catching a glimpse of a Miata, which is followed by another, and another... times like a hundred.
Car people are cool. Miata people are even cooler. And we're looking to meeting a lot of them in Myrtle Beach in a week or so. A nice bonus would to come home with a trophy from any of the competitions, but I don't think we'll have room in the car to actually get it home.