Is It Too Optimistic To Get Excited About Nationals Baseball?
by Alan J. Claffie
As a recovering Boston Red Sox fan who adopted the Washington Nationals as soon as they moved into town for the 2005 season, I've gotten pretty used to rooting for a baseball team that's not expected to win. And I'm pretty cool with that. It makes it easier to spot a fellow fan while out of town, sharing that nod between those who wear the curly "W" in places they're not expected. It's also quite a bit easier to get a decent seat on the day of a game: just walk up to the box office at beautiful Nationals Park, pick your section, and you've got your choice of seats. Try that at Fenway Park.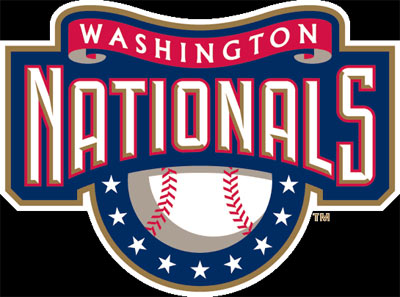 Even though the Nationals were a bit of a letdown in 2008, after a promising 2007, we're still willing to wear the gear and watch the team come together for another season. When I saw them play the Braves last year, well past the point where either team had anything to play for, the Nationals were a scrappy bunch with plenty of hustle. That's worth the price of admission, even if they lose two game for each one they won.
What was really cool to see over the winter was the team's willingness to become a player in the free agency market. I'm not a huge fan of signing one big name for a big chunk of payroll, preferring to see home-grown players come up through the minor-league system to make a name for themselves in our own park. But in a winter bereft of news, it was a glimmer of hope to see that Mark Teixeira had to consider an offer from the Nationals during his time on the market. Listening to ESPN's Baseball Today podcast, one grows tired of hearing about the Yankees, Sox, Mets, Cubs, and Phillies. The Nationals got some mentions during the Teixeira negotiations and, even though the experts on that podcast discounted the offer to come play in the nation's capital as easily dismissed since the big-buck free agent wasn't going to go play for an otherwise uncompetitive team, they were mentions nonetheless. All through the off-season we haven't heard a peep from teams like the Royals, Diamondbacks, Rangers, etc.
Now the Nationals have Adam Dunn for a couple years at ten mill each. There's nothing like having a guy who has been known to knock 'em out of the park on the roster, although luck will probably have the guy on the disabled list or in a season-long slump now that he's got a payday and a place to call home for the next two seasons.
On the personnel front, all they need to do is lock up Ryan Zimmerman with a long-term deal and we just might have a team: although a team that lost over a hundred games in 2008 and whose leading RBI man only knocked in 61.
Pitching is going to be suspect, and I was going to say this before reading that Odalis Perez is going to put the screws to the team by staying home unless his contract is improved. It's hard to believe that a sub-.500 lifetime pitcher who went 7-12 last year (although we were at Nationals Park to see him pitch a very good win over the Braves in September) can afford to play hardball with a major league team, but that's the wacky state of the game. He was probably the most reliable, injury-wise, of the entire starting staff last year, but that's only worth so much if you're going to lose more than you win.
If the team winds up losing 90 games in 2009, we won't be terribly surprised. But the team has the capability to surprise, and that's why we watch. They're not supposed to win, but when (if) they do, that's fun baseball. And we're looking forward to more fun baseball in the nation's capital in 2009.