Resurrecting a Derelict MGB
by Alan J. Claffie
I bought my 1971 MGB in the summer of 1987. I was 19 and wanted an English car since my dad had always had some and they sure seemed like fun.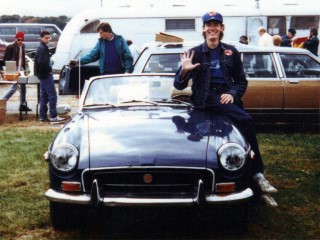 The deal was that we'd get something cheap and needed some work, and I'd run it for a year. After that year I'd have a decision ahead of me: if I enjoyed British motoring, I'd sell the car and buy a better one. If I didn't like it, I'd sell it and hopefully break even.
I wound up with this semi-ratty '71. It was already patched up and repainted at least once and was pretty much due for another go-round. The radiator was leaking and the car died on me inexplicably - twice - on the first ride home. But it was all of $850 and passed inspection.
We never had that one-year-later conversation about where I stood with Brit car ownership. We never discussed selling the car for a better one, or selling it and washing my hands of LBCs. The car just kind of became part of my world.
In the next ten years we did the body over twice - once because it needed it, and a second time because I got rear-ended by a pickup with a snowplow mount. My dad had to rebuild the engine twice - once because I ran it low on oil, and a second time because the oil pump quit. The floors were repatched, who knows how many second-hand tops we've fitted on it, and countless junk tires. And all the time it kept squeaking through Massachusetts safety inspections.
We had a family friend who owned an old farm outside of Albany NY, and he stored our fun cars during winters. After the 1996 summer season I put the MG in the barn and, since I was unsure about its ability to pass inspection and without a good place to work on it in my first post-college apartment, I left it in the barn for a few years. In those days, Massachusetts used a different color for inspection stickers each year, but only so many before repeating them. And in 1999, they went to blue, which happened to be the same color as 1996, so we took the gamble that I wouldn't get pulled over and I snuck another summer of questionably safe motoring in the little clunker.
The car went into the barn again in fall 1999 and there it sat. In 2002 I moved from western Massachusetts to just south of Washington DC and got married. We had a string of sedans and SUVs. When we bought a house with a garage, our attention turned to fun cars again. I got a 1996 Miata in the fall of 2007 and was smitten. The wife liked open-air motoring but didn't care for pop-up headlights on the older Miata, and treated herself to her own, a 1999 in spring 2008.
The '96 got totaled the following summer (not my fault!) and this started a sequence of events that went like this: the wife decided she wanted a Mazdaspeed Miata and handed me the '99. I still liked the older cars and when a nice '90 came up for sale I picked that up (September 2008). The wife eventually found her dream MSM and bought that (November 2008), but developed a soft spot for the 1.6 cars she didn't feel for the '96. A ratty '93 was in a junky used car lot and she felt it needed rescuing, so that came home (July 2009).
In 2009 we went to a couple of Miata get-togethers that had low-key autocrosses in their agendas. We enjoyed doing that and started running local SCCA stuff, and got pretty heavily involved to the point where we turned that '93 Miata into a semi-serious build that we run both locally and at further-flung events including the SCCA Solo National Championships in Nebraska the last couple years.
All this time we kept getting storage bills for the MG, and we kept sending checks back to upstate NY. Occasionally we'd discuss getting the car and bringing it home, though to do exactly what with it was up in the air as we now had a driveway full of much more adequate and reliable top-down toys. So it kept sitting.
Over the 2011-2012 winter the owner of the farm decided to sell the property and retire to Florida. The new owner was not interested in storing cars for the deeply discounted rates we were getting charged, so we had to vacate it from the premises. We had just bought a trailer for our autocross efforts so I guess it was time to learn how to tow a car home. With 12 year old gas in the tank I didn't dare fire up the engine so we pushed/pulled/tugged the thing onto the trailer and off we went.
The car made it home without falling off the trailer and we asked ourselves, "now what?" And that's about as far as we've gone with it. It went from the driveway to the garage in an effort to keep the neighbors happy, kicking my garage queen '99 Miata into the elements. Last summer we dabbled a little into resurrecting it. I put a battery in it and found the engine turns over easily, though I haven't done anything about the old gas in it so I haven't plugged the coil wire into the distributor yet. I put a set of newer used tires on and three of them are still holding air. I jacked up all four corners and was happy to see it still has working brakes on three corners. And one problem I had with the car years and years ago, a spongy clutch hydraulic line, has returned so the pedal is very slow to return off the floor.
So here we are today.
My dad is between projects. He sold off a Sunbeam Tiger project last year and hasn't found anything interesting to replace it with yet. He's coming out of a long winter in Massachusetts and itching to fiddle with something as his fleet is in pretty good shape. He's offered to help with this clunker so in the next couple weeks I'm going to put it back on the trailer and haul it up to him and spend a long weekend fiddling with it. If we get it going by the end of the weekend, it'll come home with me; if he thinks he wants to do more with it, I'll leave it with him. I don't expect miracles; he might poke around it for fifteen minutes and decide he's not that interested in working on it.
I've been saying for a year and a half now that I could have the car up and running in three days: one to drain the old gas out, one to replace the clutch line, and one to take care of the non-working brake. I guess when I bring it up north he can laugh as I flounder around proving myself wrong as we run into complication after complication.
I don't really have any questions here, though any advice is certainly welcome (aside from "throw it away and stick with Miatas"). Ideally I would love to have the thing running when it comes home so I can insure it and register it (both cheap!) and get one more summer out of it for old time's sake, taking it out on Friday nights to get ice cream. After that, who knows?