In Memory of Mike
by Alan J. Claffie
I don't remember the first time I met Mike Kline.
When we started this silly autocrossing hobby in 2009, he was already a veteran of some years in the Washington DC area and beyond. But he ran a kart, and we never paid much attention to the karts.
At some point we were introduced to his Miata, and I was just blown away when the hood went up and I got my first look at the LS2 Chevy engine. What impressed me most was the fact that the conversion was so well done, it looked like it was put there by the factory. At that point, Mike was already a hero in my eyes.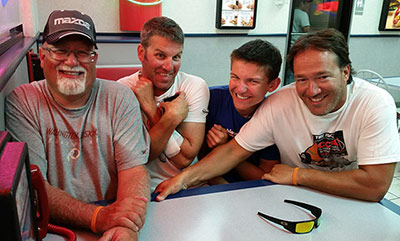 As we embarked on taking our little program to running at the national level, we wound up doing the same things with the same people at the same places many times during the course of the year. This meant many dinners out with Mike and the rest of the DC contingent. While soft-spoken, he never had a bad word to say about anyone. He just went about his business with his kart, and was available to help out anyone else at the same time.
We got to know Mike a lot better when he started co-driving with Danny Kao in C Street Prepared. I found that pairing amusing. Mike's quiet demeanor and intense workmanship seemed to be diametrically opposed to Danny's over-the-top personality and, well, fabricobbled garage skills. But the pairing worked, and as we got to spend lots of quality time with Danny at far-flung locations, we also got to do so with Mike.
Mike did us a huge favor a few years ago.
We had experienced a clutch failure on the Marshmallow, our 2002 Civic Si commuter. I had the silly idea of throwing some sticky tires on it and trying it out in fun runs following a day at FedEx Field. The clutch wasn't in good shape leading up to that day, and it ended the day completely dead. I towed it home and let it sit for maybe six months while dreading the repair bill that was going to come with fixing the car. But one day Mike approached us and offered to help change the clutch at his house. He had a lift and, more importantly, mechanical skills.
I brought the car to his place on a Saturday morning. Neither of us had attempted a clutch replacement on a front wheel drive car, but Mike wasn't intimidated. I had the factory service manual and we just methodically went step-by-step tearing down the front of the car.
Here's a little insight into Mike's sneaky sense of humor. The book called for a special Honda tool, with a long senseless part number, that was necessary to hold the engine up in the car while the motor mounts and front subframe were removed. We didn't have this tool, but Mike took some scraps of 2x4 wood and hacked together a suspension system that would accomplish the same job. When we were assured that the engine wouldn't crash to the garage floor, Mike grabbed a Sharpie marker and wrote the Honda tool's part number onto the top of the scratchbuilt contraption. I wish I had more pictures of that.
We had the clutch swap nearly done by Saturday evening. There was a thought of putting in whatever additional necessary hours were left in hopes of Getting the project done in one sitting, but sanity prevailed and Mike suggested we not rush reassembly. It was the right call, but it also meant that Mike got to spend an entire weekend in his garage working on someone else's car. There was no way we could repay him, not that we would be able to as Mike asked for nothing for all his hard work.
I got to spend more fun time with Mike and Danny back in the spring when I was invited to run Oscar the CSP car at the Blytheville Pro. I'm sure he was apprehensive about the whole deal, since Pro Solo is tough enough on a Street Prepared car with two drivers sharing the car, and now there was going to be a third. The amount of work needed to pull this off was considerable, since I was to run on a different set of tires so there were tire changes before my turn to run and then they'd need to be changed back before the next session. Also, since I was running the CSP car in a different class and had to make minimum weight, Mike had to strap a bad of tools in the trunk and add gas before I ran. I don't know how much he was on board with my joining the team for the event, but he never complained and I had a fantastic time.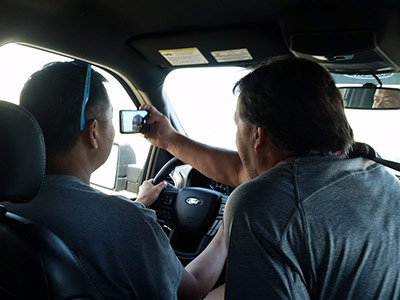 After the Pro, I joined Danny and Mike on a boondoggle to Memphis for a whirlwind tour of Memphis Motorsports Park, where we checked out the One Lap of America participants doing drag racing. Witnessing the fun interaction that Mike and Danny had was the highlight of the trip. They had years of inside jokes to draw on, and were always on the lookout for amusing photo opportunities on the highway. It was a ton of driving and activity jammed into one weekend, but it's one I'll remember for a long time.
It's mind-blowing how someone could go from seemingly perfectly healthy to saying he had a cancer diagnosis to surgeries and treatment, and finally realizing we were going to have to accept the fact that our friend wasn't going to be around anymore. Just as we were coming to grips that this was a real possibility, it had already happened. Now what?
We're fortunate that we have hundreds of photos and no shortage of video clips of Mike to look back on. Given a choice, though, we'd much rather still have Mike around. That he was taken from us at such a young age not only makes me sad, it also makes me angry at whatever invisible forces allowed this to happen.
It's not fair.