Your Washington Nationals: 2019 World Series Champions
by Alan J. Claffie
Part 2: The 2019 Regular Season
This takes us to the reason I started putting pen to paper here in the first place, the 2019 Major League Baseball season.
Astute readers can find all the details on what happened pretty much anywhere, but that won't stop me from attempting to retell it here out of memory, just so I can enjoy it all over again.
2019 started under a dark cloud because former Most Valuable Player, Bryce Harper, was about to leave as a free agent. But as spring training began, he hadn't signed with anyone yet. This meant the Nationals fan base was subject to an entire off-season of television and radio sports guys asking, "Where is Bryce going, or is there a chance he could stay?" darn near every day. I'm sure I was not the only fan suffering from Bryce fatigue by January. When he finally signed with the Phillies, it was more of a relief than anything else, even though he was going to a rival team that the Nationals played nineteen times each season.
I was not particularly sad to see Bryce go, because the team he left was still in pretty good shape. The outfield got younger with rookie Victor Robles moving to full-time status. Offense was now going to rest on the shoulders of Anthony Rendon and Juan Soto. Rendon, a free-agent-to-be, had a loose low-key playing style that belied potential MVP ability. Soto, entering his second season, was looking to improve on a rookie campaign that saw him put up numbers similar to the early years of the sport's all-time greats.
There were improvements made once it was fairly clear that Bryce was not returning. Patrick Corbin signed a big free agent deal to become the third starting pitcher, a lefty with a killer slider to follow righties Max Scherzer and Stephen Strasburg. Another free agent pitcher, veteran Anibal Sanchez, joined the rotation. Brian Dozier signed a short deal to play second base.
Also on the pitching front, two fairly high-profile relievers were added to the bullpen. Kyle Barraclough came from the Marlins where he did fairly well. And Trevor Rosenthal, who built a good closer record in St. Louis before needing Tommy John surgery, signed a big contract to mount his comeback in Washington.
Despite optimism at the outset of the season, the Nationals stumbled out of the box. Shortstop Trea Turner broke a finger trying to bunt in one of the first games of the year. Zimmerman, after a couple of relatively injury-free seasons, had to miss time thanks to his old nemesis, plantar fasciitis. Rendon missed games, too. Injuries played major roles in previous underachieving years with this team, and it was starting to look like we were living that nightmare all over again.
Both the Braves and the Mets got off to hot starts, and the Phillies weren't far behind. The Nationals were having trouble scoring runs with its depleted roster, and when they could muster some runs, the reliever corps couldn't keep the other team from scoring in late innings.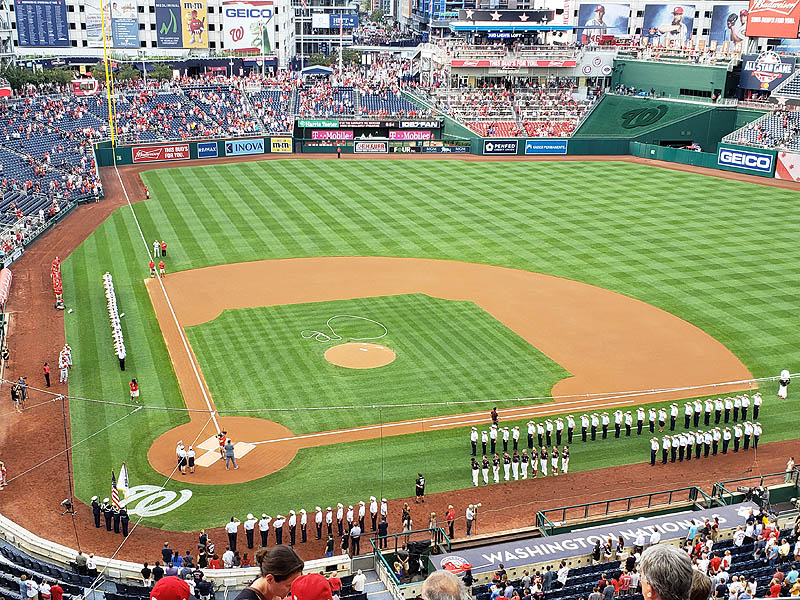 Barraclough was not good. Nothing really stands out as far as specific examples, but we were not too far into the season before the reaction to Bob Carpenter telling the television audience that he was warming up was groans.
Rosenthal wasn't just bad; he was comically bad. When he wasn't issuing four-pitch walks, he was throwing to the backstop or plunking the opposing batter. His start of the season was a running joke because his earned run average was infinity, coughing up runs while getting literally nobody out.
In the past, the Nationals would attempt to ride out pitchers who were having bad stretches, no matter how long those lasted. That they cut both Barraclough and Rosenthal from the team, despite how much each was costing the team, before they could completely annihilate the season was a good sign. More relievers were brought in off the scrap pile and, while they weren't that particularly good, they were certainly better.
While relief pitching was being addressed, the Nationals were still falling behind in their division. At their lowest point, they were sitting fourth out of five in the N.L. East. Almost a third of the way through the season, their record was a dismal 19-31.
Things started improving in late May. Two things played major roles in this: previously injured players started trickling back into the lineup, and the schedule gods presented the Nationals with a long stretch of games against bad teams.
Turner's return to the top of the order was a spark that changed how opposing teams dealt with that part of the lineup. Rendon and Soto proved to be a potent 3-4 punch. Ageless Suzuki provided spark deep in the order, and Howie Kendrick proved to be valuable at first base, second base, or even as a designated hitter.
As the summer cruised by, the Nationals stayed hot. However, the Braves did the same. While the Mets and Phillies stumbled during the dog days of summer, the Braves matched the Nationals win for win. This made DC's sports talk radio temper its collective enthusiasm over the home team. Yes, they admitted, the Nationals are doing well, but it's going to take a monumental Braves collapse for the Nats to win the division. And while the chances to win one of the wild card slots were improving, can we really get excited over winning the right to play in a one-game playoff where the postseason could very easily end just as quickly as it began?
While the wild card was merely a consolation prize for putting together a decent season, it beat missing out on postseason ball completely. The pursuit of one of those spots was legitimate sports talk chatter. The guys on the radio had a guesstimate of how many wins it would take to qualify, and calculated what winning percentage would be needed to get to that total. With the coming Redskins season looking to be dead on arrival, baseball talk was still on the airwaves as the calendar flipped to September.
Buoyed by late roster changes that brought help to the bullpen, and a surprisingly resurgent Asdrubal Cabrera returning to the team to play second base, the Nationals cracked the wild card top two. As Gerardo Parra's "Baby Shark" because an actual thing, the team climbed atop those standings. The division title was essentially out of reach, but most of us knew that wasn't going to be a realistic possibility. It was nice to sew up the wild card slot, and even better to be the best of the rest so they get to hold the wild card game at Nationals Park. This is where this essay changes from history lesson to personal account.