by Alan J. Claffie
Part 4: The World Series
The reality had set in that our team was in the World Series, though no opponent had been determined yet. We knew that the Nationals were going to host games 3, 4, and 5 if necessary. I knew that Kate would tell me to go to a game if I could find myself a seat so I readied myself for that possibility. I had access to some kind of presale since I had attended previous playoff games, but, unsurprisingly, I could not get into the system at the time as there were few tickets actually available and a zillion people trying to buy them.
Kate was ready to navigate the choppy waters of the secondary market. I think the prices being asked for 400-level seats were well north of $1,500 and I made it very clear that I was not O.K. paying that kind of money to watch a baseball game. That didn't mean that Kate stopped looking and giving me updates on the latest price fluctuations.
With the Astros winning the American League, the Nationals now knew who its opponent would be. The radio pundits said this was bad news, since the Nationals theoretically stacked up better against the Yankees, who the Astros defeated. At this point, I didn't really care who the opponent was. Ever since winning the wild card game, the Nationals were playing with house money. They shouldn't have advanced past the Brewers, so any game played after that, in my eyes, was a bonus. All I really wanted from the Nationals in the World Series was to win a game or two so they'd at least make the dominant Astros work a little on their way to their second title in three years.
Game one was in Houston and my only hope was that our guys would not get shut out. In typical fashion, they got behind early and had to rally to get back in the game. Things got even better when they took the lead, and went on to win the game. Getting out of bed the next morning, the sun was shining a little brighter, the grass seemed a little greener, and all was right with the world.
I don't remember if the team opened up Nationals Park for a free watch party for game one, but they were doing so for game two the next night. I snagged a ticket online and was looking forward to it. The parking garages opened two hours before first pitch, so 6 p.m., and I had every intention of being there right at that time.
I cruised onto South Capitol Street as the clock neared six and found my expected turn that would take me to the "C" garage blocked with cops. Plan B was to continue on to the next right turn which would take me to the Geico garage.
Mistake number one was assuming all the traffic I was surrounded by was also going to the park for the watch party and not just commuting or going into the city for any other reason. So when traffic drove past that right turn and continued straight, I figured that that entrance was also barricaded with police and we were being directed to another entrance. There certainly were cops, but no direction. I just followed the crowd and figured we'd all get where we're all going eventually. I certainly had time.
As traffic crawled around the park, my patience was getting tested more and more by drivers trying to merge in front of, behind, or on top of my small car. I became increasingly frustrated by seeing police at every intersection, but none of those officers were offering any direction into the stadium area. Finally, I cracked. I got out of the line of traffic to nowhere that I was mired in, aimed for any empty road I could find, and told my phone to get me out of this miserable city and back home before first pitch. I called Kate to tell her I was headed home, and she volunteered to grab some chow, so I didn't even have to slow down.
I did indeed pull in with some time to spare before the game started, and it turned out to be another good game for the visiting team. The Nationals not only won, but they won going away.
The next day, I was grinning ear to ear. I wanted the Nats to escape Houston without being embarrassed, but instead it was the Astros who were knocked back on their heels. The prospect of the Nationals winning it all was very real: all they had to do was win just two of the next five games. How hard could that be? They had already won their last seven going back to the Dodgers game four. The Astros were reeling: their bullpen was ineffective and their bats had gone cold, and now they're heading into enemy territory.
Kate was still checking tickets for the home games, but with the Nationals riding this heater, availability was way down and prices were way up. This made it easy for me to say there was no desire to see a World Series game in person.
All the optimism from the first two World Series games evaporated as the third and fourth were played. Everything that plagued the Astros in their park stymied the Nationals at home. Hits were few and far between, while the Astros' bats woke up. Add in a fairly widespread belief among the Nats faithful that the good guys were getting jobbed by the home plate umpire over balls and strikes, and these were frustrating games to watch.
Things got so bad during Saturday night's game, where no Nationals pitcher could get any Astros batter out, that I turned off a baseball game before it was over. When I woke up Sunday morning, the series was tied and it looked like the Astros woke up from a brief nap, remembered how to play baseball, and weren't going to let the Nationals score another run.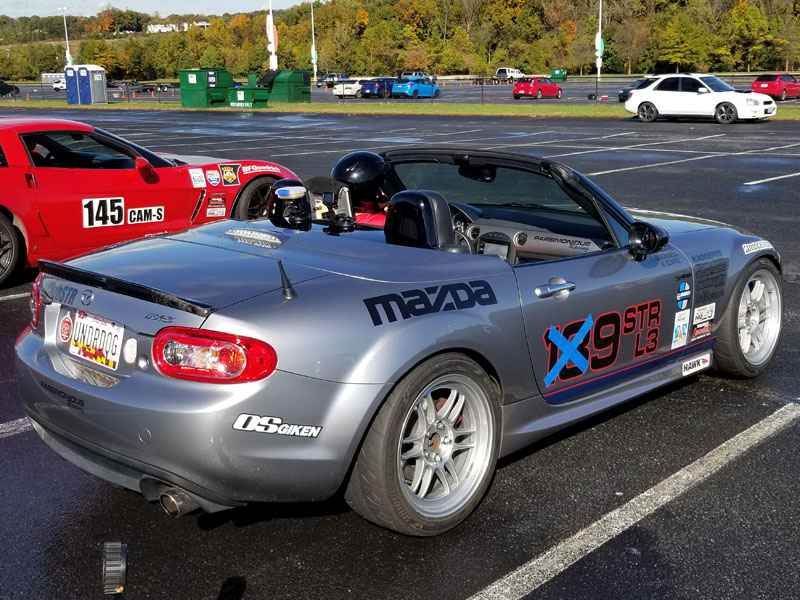 We were at FedEx Field playing with toy cars with our car friends when Kate told me that ticket prices for that night's game five had deflated significantly, and I could get into the park for something like $600 plus fees. I will admit now that I was tempted. But considering the team had been unwatchable in its previous two games, and there didn't seem to be any sign of this game being any different, I passed.
Things went from bad to worse for the Nationals later Sunday when scheduled starting pitcher Max Scherzer wasn't able to go because his neck was tweaked. Joe Ross was pressed into service to start, and he was OK, but frankly it didn't matter who pitched because the offense was shut down once again. The Nationals scored just one run in each of their three home World Series games, and they were going back to Houston down three games to two and completely devoid of any swagger they had just a few days before.
For me it was a mixed blessing. I didn't get to go to a World Series game in person, but I was spared from watching my team lay an absolute egg.
My philosophy over those three days went from "Hey we can actually win this thing" to "At least we're not going to get swept." The Astros had awakened, we were now seeing how scary good they could be when firing on all cylinders, and they were now playing at a World Series level. The Nationals certainly couldn't claim that last part.
Nationals Park was hosting watch parties for games six and seven, and I decided to take another stab at attending one. The parking garages opened an hour earlier than before, which was big for me since that meant I could arrive before dark and, more importantly, before rush hour really got going.
I arrived at the park maybe twenty minutes before the announced time of garage opening and again found both potential right turns towards the park blocked by police. This time I played dumb and asked one officer how I could get in the garage, and she admitted she didn't know. Since traffic wasn't brutal, I decided to putter around the neighborhood until the time the garages opened and try again.
The second time by I figured I'd play dumb again and blindly attempted to make the turn despite the police presence. If nothing else, I'd get better information about where to go and what to do if I got stopped on my way in.
With more than a little trepidation I approached the right turn and hit my turn signal. I turned in awaiting the inevitable order to stop, but that didn't happen. I turned into the garage entrance ready for the inspection that is done when I showed up for real games, but instead I was told to just keep moving. I found a parking place on the very first level, marveled at how easy all that was, and wondered to myself what I was going to do with myself with almost an hour before people were going to be let into the park, which was another two hours before the game was going to start.
I had brought snacks and drinks to tide me over, and online poker got me to when the park's gates opened. Checking those gates, I saw people lined up to get in. What a relief that sight was: I was not the only baseball fan degenerate who went to the stadium to watch a TV broadcast on the scoreboard.
Inside the park, I gook a leisurely stroll around. They limited seating to just the lower bowl, so I couldn't explore the upper levels. But I could linger around the scoreboard walk, debate with myself whether to treat myself to a $7 Shake Shack shake (I didn't), and check out nearby areas of the park that I either lacked access to on game days or found them too crowded before.
Early on, it seemed that most people were sitting on the third base side of the park to watch the game. My initial thought was that the powers that be were not letting people sit on the first-base side. But they were, and I was happy for that as it was the side that I usually watched games from, and it was less crowded. I picked a seat about ten rows up from the home dugout and got ready to watch a game on TV with a few thousand like-minded individuals.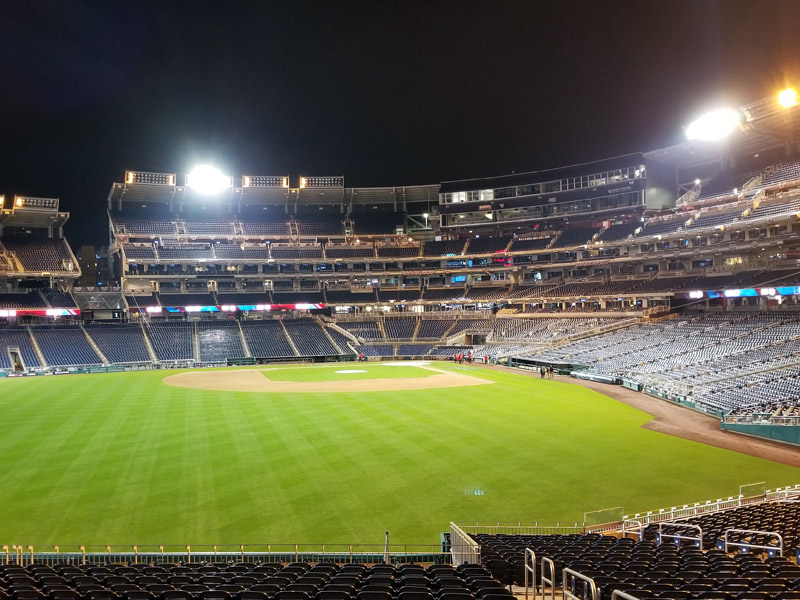 The watch party was fun, no doubt, but I wanted more, perhaps unrealistically. Ideally, when a Nationals player came up to bat, I'd have loved it if the stadium played his walk-up music, even at a lower volume so the broadcast wouldn't be outshouted. They could have even had the between-inning stuff like at a regular game, but that might be asking too much for a small crowd event where admission isn't even being charged.
The game itself was entertaining. The Astros got out to an early lead but, unlike in D.C., the Nationals scraped together more than one run. So those of us in the stadium had reasons to cheer.
The key to this game was the sixth inning. With a runner on first, and the Nationals trying to extend a small lead, Trea Turner hit a dribbler just in front of the plate. Houston's catcher attempted to throw Turner out, but the ball glanced off the first baseman's glove as Turner arrived at the same time. Thinking we were sitting pretty with men on first and third, imagine out surprise when Turner was called out for running inside the baseline.
Nationals Park was alive with fans angry at that call, while those in Houston debated replay review and the eventual decision to let the call stand despite clear evidence that showed Turner did nothing wrong. Anger turned into elation when Rendon homered two batters later. As I was high-fiving random strangers, I thought "We're going to win this game."
When the broadcast returned from commercial, it showed Nationals manager Davey Martinez going off on the umpires, needing to be held back while getting ejected from the game. Seeing him that riled up must surely fire up his players, and I thought "We're going to win this series."
About that time, it occurred to me that there was going to be a game seven, and there was going to be another watch party for it, and I should go to that. I fired up the phone to snag my free ticket for that, and discovered that a lot of other people must have had the same thought since there were no tickets available. The woman in front of me was discovering the same thing, so it wasn't just me.
The Nationals won game six, and there were more high-fives with my fellow fans who all swore that we'd be right there the next night, same seats, to see the finale. Oops!
I tried to get a watch party ticket the next morning, but found the same results as the night before. At this point I decided it was not meant to be. Even though there was the possibility of the park opening up more seats, I was no longer in the mood. Besides, the evening's forecast was calling for rain. I'd be perfectly happy watching the game in the comfort of my recliner with a couple of pugs. I almost wavered on this when a friend offered the tickets he got as part of his Nats Plus season ticket package, but my mind was already made up, and the sprinkles that were falling outside iced the decision to stay home.
Game seven started and I wasn't too wrapped up in it. Our underdog Nationals had pushed the favored Astros to a single winner-take-all game, and that's all I could ask for, especially after the disastrous showing they produced in their home games. Obviously, I wanted the Nationals to prevail, but I wasn't going to be bitterly disappointed if they didn't.
True to form, the visiting team fell behind early, but by now I was conditioned to not worry about this as the Nationals had shown the ability to come back late throughout October, World Series games 3, 4, and 5 excepted. They kept close to the Astros through game seven's middle innings.
With one on, Howie Kendrick hit a line drive that I wasn't sure could clear the right field fence. But it just barely did, clanging off the foul pole for a home run that put the Nationals up by one. Maybe earlier in the postseason, and definitely earlier in the regular season, something like this would have been met with the thought, "How are they going to cough this newly-found lead this time?" But this time it was different.
Between a lockdown relief stint by starter Patrick Corbin, and some late tack-on runs, the Astros had an uphill battle in their bottom of the ninth. Daniel Hudson took the mound and he was nails. The usually patient Astros, who had been working pitch counts and taking walks, were now swinging at almost everything and coming up empty. Appropriately, the last out was made with a swinging strikeout.