Track Night in America: Lime Rock June 11 2020
by Alan J. Claffie
Lime Rock Park is a pretty significant place in Claffie family history. When us kids were much younger, dear old dad was racing there. A lot of times, some of us tagged along to watch and help, or wind up underfoot and get in the way. As we got older, my brother and I would go with dad to watch, and after the races we'd all go down to the beer party for free store-brand soda hanging out with the grown-ups. We'd ask dad if we could go to the pit road and up on the flagstand, and he'd say "go up there like you own the place." Good times.
I've always followed motorsports, and became a participant in 2009 when Kate and I started autocrossing. We didn't get into going to actual tracks for the longest time, mostly because we didn't have roll bars in our cars and the price of participation there was more than my Parsimonious ways could stand. But we did occasionally get on tracks, thanks to Summit Point's charity paced laps and days like that.
I had gotten onto Lime Rock's hallowed 1.53-mile main circuit a handful of times. The first time was during the Labor Day vintage weekend in the late '80s or early '90s. The featured marque was actually all of the British marques, and one of the items on the agenda was a parade lap around the track of people from the various Connecticut English car clubs. I had parked my blue '71 MGB just outside of their car corral, coincidentally just behind another blue '71 MGB. When the call was made for the club members to get to their cars and get ready for parade laps, I went there to see them huddle and get some pictures. The owner of the other MGB saw me and lied by saying he liked my car, which looked like a rattier version of his own. He asked me if I was doing the parade laps. I said no, I was not a member of any of the clubs and as such was not invited.
"I'm inviting you," he said, and got someone to hold up the rope separating me from their parking area so I could tack myself onto the end of the line.
I wound up doing three laps, honking the horn and flashing the lights like an idiot as I went through the Esses in front of a huge crowd. Then I got stuck in the biggest traffic jam ever following the crowd onto pit road, through the paddock, and back up the hill to the parking lot with the old B sputtering and loading up the whole way.
The second time I got onto Lime Rock was when I was an alleged international motorsports journalist, and was invited to the track's Media Day held a week and a half before the annual NASCAR Busch North Series weekend there. The first year I went, one of the fun activities offered to media freeloaders was driving on the infield autocross track in Skip Barber Racing School Dodge Neons. The next year, we were back on the little track, but now in Dodge Vipers. The third year, we were foolishly let loose on the main track in Vipers with Skip Barber instructors riding shotgun. I had Busch North regular Brett Roubinek as my instructor. I probably lulled him to sleep as I puttered around the track, thinking I was going flat out. After my three laps, we swapped seats and Brett showed me how I should have driven it. It might not have been the fast way around, since we were never really ever in a straight line, but it was fun to see. After we pulled into the pits I told Brett that I really enjoyed that, and we should switch seats again now that I know how I was supposed to be driving.
"Nope," he said.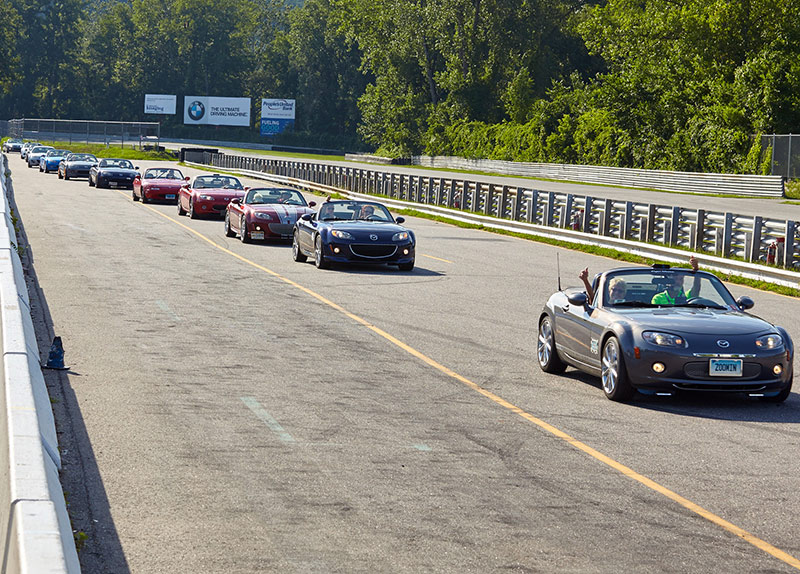 The third time I got on that track was just a few years ago. Nutmeg Miata Club was celebrating its 25th anniversary and hosted a big get-together, with one of the activities being a timed competition on the infield track. I brought Sloppy the '08 MX-5 and got the fastest time in that competition, with a winning margin of something like four seconds. When that was done, we all staged in the "B" paddock and got a handful of paced laps on the big track.
Following a pace car on a track is, well, just OK. But until recently, that was all I was going to get to do. Fortunately, I started running SCCA's Track Night in America last year. It's a program that gets cheapskates like me onto tracks for less money than typical track days go for. Thanks to this program, I got onto Dominion Raceway four times last year. Track Night runs at tracks all around the country, opening up the possibility to run at places, inexpensively, for those willing to travel.
I figured I'd stick to Dominion for the most part, but then my wheels started turning as the season schedule started coming together. Lime Rock had three Track Nights scheduled. Two were on consecutive days in May, with a third in June. The June date wouldn't work as we originally drew up our plan, as we'd theoretically be leaving the next day for the Peru Pro Solo. The May dates didn't conflict with anything, so I penciled in going to the Thursday date and then spend the balance of the weekend in Massachusetts visiting the folks.
COVID-19 and its resulting global pandemic threw a bunch of wrenches into our plans. When everything shut down, a lot of our plans got shuffled. Pro Solos got rescheduled and canceled. We haven't held a local autocross yet. But things were looking up as we got to the month of May, and I held out hope for the Lime Rock Track Night on the 21st. But that date came and went with nothing happening, and I was pretty unhappy that I didn't get my chance to drive that track this year.
The June date looked like it was still going to happen, and with our deciding to not go to the Peru Pro Solo, that date suddenly wasn't conflicting with anything. I signed up, and took a look at the weapon of choice.
Captain Slow, my fine '90 Miata, had undergone some upgrades earlier in the spring. I had changed out all the control arms to get rid of the polyurethane suspension bushings I installed five years ago. I had also replaced the viscous differential with a Torsen unit. Everything in the suspension had been gone through; it was about as good as it was going to get. The last items on the to-do list were to get the car aligned and get a fresh set of tires mounted. I got all that done and I declared the car ready to go.
In the days approaching Lime Rock, I got a bunch of emails saying how things were going to work. There's lots of mask-wearing, social distancing, and limitations on spectators. We were allowed to have one crew member. Pa volunteered to be mine.
I didn't want to do anything with hotels or other overnight stays on this little boondoggle, so my plan was to make a banzai run straight to the track, and then head straight home afterwards. This meant the alarm went off a little after two in the morning, and I was on the road at three. I wasn't completely enthused about the day, though. Looking at the weather forecast for the day, things weren't looking that great. Earlier in the week it predicted showers through the day, then changed to scattered thunderstorms.
Weather on the ride up wasn't making me any more optimistic. Showers approaching Harrisburg turned into full-fledged pouring north of Pennsylvania's capital city. That eventually improved, but it was still wet and overcast as I headed east on Interstate 84 into New York.
I had built in some time for flexibility in case I hit traffic on the way there, but without traffic, I was super early. Gates opened at noon, and I was ninety minutes early. They let me in anyway, and I got unloaded among sprinkles. They eventually stopped, and a check on the radar showed that we should have been out of the rain business completely after that. I was feeling better about how the day was going to go.
While I had asked if I could have checked the track before things got going either on foot or on bike, that request was denied. I had also asked if I could use the infield kart track to shake the car down a little since I hadn't had a chance to give it a good ride since having it all apart and back together again back in the spring. That request was also denied. I was allowed, however, to tag along at the back of the paced laps for the novice group so I could see the track from the drivers seat while also making sure the car wasn't going to do anything funny going around corners.
Dad showed up while I was in the drivers meeting, and after that we had some downtime before those paced laps.
"Do you want some tips?" he asked.
"YES"
Despite my having a zillion laps around Lime Rock in various simulations, it didn't hurt to have the perspective of someone who has plenty of laps on the actual track.
The paced laps went well. We weren't going fast but I got to check out the curbs and see if they'd upset the car or not, which was my primary curiosity. I was following a couple of the novices and I don't know if they were getting it or not. I think those paced laps were to show the newbies the line, but the lead car was so far ahead that the ones just in front of me were kind of all over the place, nowhere near apexes. I don't know if they got any better in their unpaced sessions later in the day.
My first time out was great. I quickly found the track to be a fun little roller coaster ride. Thanks to all that sim driving, I was up to speed right off the bat. It took a few laps to realize that the car wasn't going to snap sideways at the top of the climbing turn (it happens a lot in sims), and it wasn't going to loop itself into the inside wall at the bottom of the last turn. I was braking at the 3 marker going into the first turn, but as I was getting braver through that final turn, I found I was going way faster down the main straight and backed my Big Bend braking point to the 4 marker to be safe.
It took maybe eight or nine laps before I got brave enough to stop giving the brakes a chicken tap for that final turn. Around the same time, I figured that just a little tap of those brakes were useful to set the nose before turning into the uphill turn. According to the lap timer, my best was a 1:11 and I was feeling pretty good about that. Pa had a couple tips as he was watching first from the entry to Big Bend, then moved on to the Esses. The car was doing everything right so I had nothing to tweak, so I made a couple sandwiches as me and Pa debriefed.
The second session saw me get down to a 1:09 and I realized that I wasn't seeing a lot of traffic. I think I had only waved by four cars total: two BRZ/FRS twins, a very fast C7 Corvette convertible, and a surprisingly quick Porsche 944. I had passed a handful of cars. But for most of the session, I saw very few other cars around me. I had watched many videos from previous Track Nights at Lime Rock and saw cars dealing with a bunch of traffic, and with only two passing areas, open track was hard to come by. What I saw from inside the car was the complete opposite.
Pa watched the second session from the uphill turn at first, then worked his way back to the Esses. When I returned to headquarters after that session, he said, "I don't think I can help you anymore." That felt pretty good. It doesn't hurt to drive a slow car that is easy to put on every apex without having to bleed off a ton of speed. His only suggestion was to change how I got through the single left-hander of the track. "You need to be more in the black," he said, referring to the rubbered-in groove that was a bit further outside of where I had been running. I didn't really realize where I was supposed to be relative to the black until after I had gotten home and was watching videos.
We had a thought that I'd ride with Pa on the touring laps and he could show me what he was talking about, but those touring laps happened earlier than I thought they would and we were sitting in paddock when they started. Pa jumped in his car and joined those at the back of the pack, while I was still catching my breath from just getting off the track myself.
In the third twenty-minute session, I was the first car in line. I've come to like being the leader of the pack despite having the oldest, slowest car in the group typically. It's a lot better to watch my mirrors and watch for the three or four cars that are going to blow my doors off than to start deep in the field and have to deal with a lot more traffic. I was passed by the two BRZFRSes and the Corvette, and settled in. I was mulling over not doing the tap of the brakes before the uphill, but never quite got to that point. I think I was only braking enough to turn on the lights at the back of the car rather than actually slowing the car down, but it still was braking. Seeing the last checkered flag of the day was a sad moment for me. I could run that track for hours at a time if they'd let me. Instead, I backed things down, waved at all the corner stations and gave Slow a good pat on the dashboard as a reward for a job well done.
I got loaded up pretty quickly, and Pa said he had a fun day at the track before heading home. I was on the road before 6 p.m., defying the GPS that, while correctly avoiding toll roads, was still trying very hard to get me onto the Taconic Parkway in New York. Trailers aren't allowed on the Taconic so I had to be creative to make sure I didn't wind up there and get arrested. With no nap necessary, I rolled into the driveway right around 1 a.m. which meant I enjoyed a fun 23 hours with almost 900 miles of towing and an hour or so driving on a fun track in a fun car.
Captain Slow was fantastic. The worst thing I had to deal with was a little tire rub in high-speed corners, but tire wear was otherwise barely noticeable. The car passed its post-event checkup with flying colors, nothing to fix, so I signed up for another Track Night in America, going to VIRginia International Raceway in the middle of July, and I'm looking forward to checking out another iconic race track.