Captain Slow's Big Adventure
by Alan J. Claffie
Captain Slow is my 1990 Miata that I've had for twelve years now. It was already a decent start to a fun build when I got it, and it's been treated to some good upgrades in the years that I've had it. We've had a bunch of adventures in that time: it's been a show car, a semi-serious autocross car (it's gone to three SCCA Solo National Championships), and, most recently, a track car.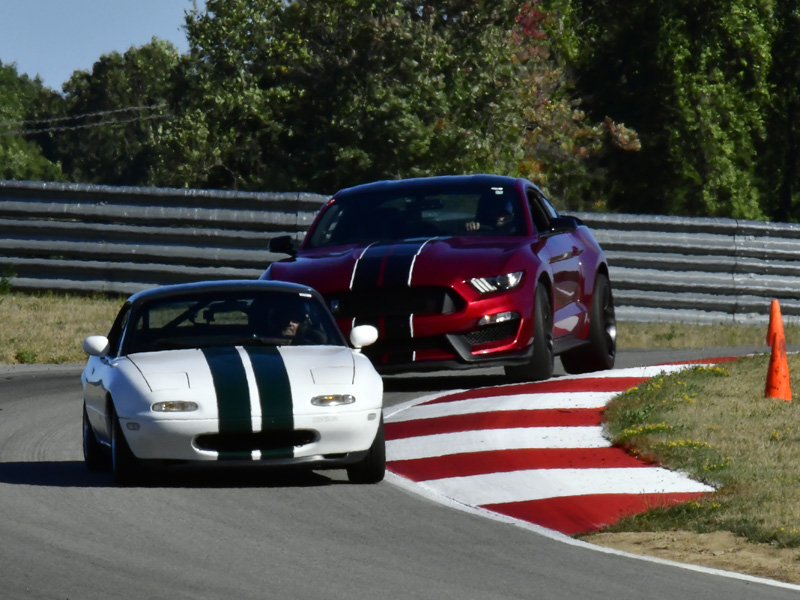 With the local autocross season being completely wiped out thanks to Covid-19, I got my motorsports fix in with visiting a bunch of different tracks with SCCA's Track Night in America program. I did five track nights at four tracks: Lime Rock Park in June, VIRginia International Raceway in July, Pittsburgh International Raceway in August, and twice at my home track of Dominion Raceway.
We weren't sure if there was going to be a Solo Nationals this year, and, even if it were to happen, we weren't too keen on attending. A lot of the competition wasn't going, and pandemic demands forced the cancellation of a lot of the social stuff that we enjoy out there. Plus, Kate wasn't terribly comfortable with other things dealt with on road trips like gas stations and restaurants. We decided we weren't going to go, and shortly after making that call, Solo Nationals was called off completely.
I don't know whose idea it was to have me go to SCCA's Time Trials Nationals at the NCM Motorsports Park in Bowling Green, Kentucky, but the more I thought about it, the more I liked it. Kate wasn't going to make the trip, which meant I could do the trip my way, i.e. as cheaply as possible. I got a mid-priced hotel and signed up for the event.
This was going to be the latest in a string of motorsports "championship" events that I really had no business being at, going all the way back to our first entry into the Virginia Autocross Championships in 2010. This year would have been our tenth Solo Nationals, and we still have yet to crack the top half of our class in any year. Time Trials Nationals would be the same thing.
Captain Slow is far from the right car for the class it fit into, Touring5. That class was made up of primarily NB Miatas, including some with VVT engines. They could run up to 9" wide wheels with 245mm wide tires. My car is a 1.6L '90 wearing 205 tires on 7.5" wheels. My goal was to stay out of the cellar of what was a 16-car class.
I was really looking forward to the ride out to Bowling Green. I had a snackie bag full of junk food and a wicked music selection ready to go, and something like eleven hours or so of solitude before pulling into the track. I had everything packed and ready to go by Tuesday night. I was up almost an hour ahead of my 2 a.m. alarm on Wednesday morning and on the road at 3.
The epic road trip I was looking forward to turned out to be not much of anything. A good chunk of the start was done in the dark, and before I knew it, I was pulling into the track. I got unloaded, checked in, and passed tech pretty quickly so there wasn't much else to do. An old friend, Paul and his wife Carolyn, made the trip from Owensboro to meet me and we got to hang out a while, and Paul joined me for a track walk in the evening.
NCM Motorsports Park is BIG. It's 3.15 miles which is not as long as VIR (3.27 miles), but then again I never walked VIR. Carolyn was with us to start the track walk but when she realized around the halfway mark that we were really only halfway through our walk, she bailed. I'd watched a bunch of videos of NCM track days so the layout was pretty familiar to me at this point, but those videos didn't show the big elevation changes falling into and climbing out of the Sinkhole.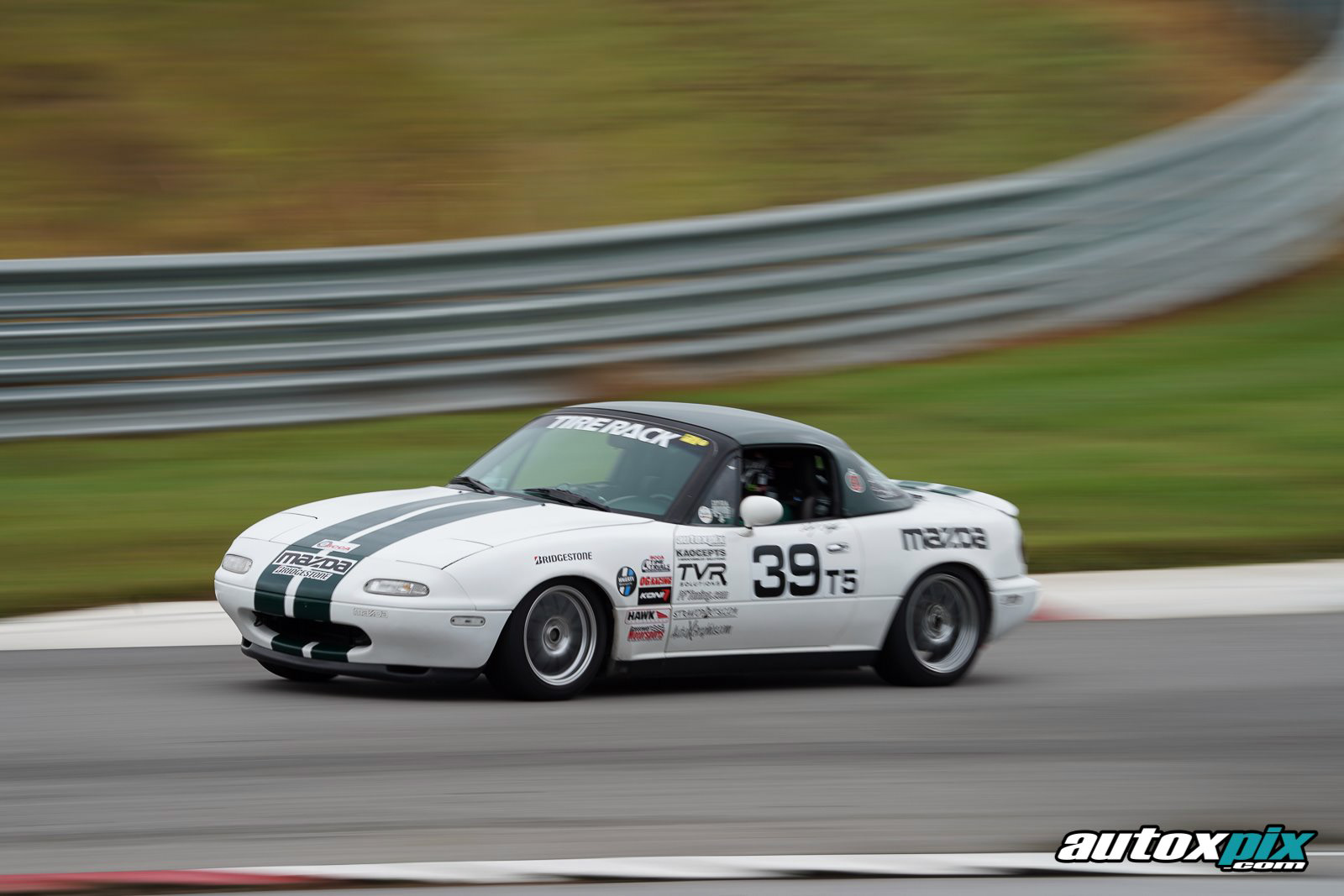 Thursday was practice day. Each group, and there were seven, was going to get three twenty-minute sessions on track. While these sessions didn't technically count towards anything, we did have our transponders on and lap times recorded so our grids could be sorted by lap times as the weekend went on.
When I first signed up for TT Nats, I was placed in the novice group. I appealed that with the powers that be, saying that I typically run intermediate at Track Nights, and have on occasion run Advanced and done just fine. I wanted out of Novice because all the novices were running together, while Intermediate and Advanced were broken into multiple groups based on car speed. I wanted to be in a group where there weren't significantly faster cars catching me and forcing me to give up on a decent lap to let them go. On appeal, I was put in Advanced group 4, the slowest of the Advanced drivers. This was going to work out much better than the Novice free-for-all.
The first session was gridded semi-randomly. The guy assigning grid spots asked if I was going to be fast or not, and I said "not hardly fast." So he put me in the middle. We got going and sure enough, I had cars in my mirror almost immediately. Before I could get my arm out the window, those cars were already making their way by. Turns out that Advanced is open passing, so those guys weren't waiting for me to give them permission to go around. That was good to know. The rest of the sessions were better traffic-wise as they gridded us by our lap times, so the fast guys were starting in front of me.
One of the critical things about time trials is how the out-lap is handled. SCCA put out a video a few days in advance showing how we should be handling what they called the "gap lap," how we drive the out lap to make sure we're not all jammed up or falling significantly behind before starting our first flying lap. It's good in theory, but our group never handled it right the entire weekend. I was less concerned with my gap to those in front of me, since they were going to drive away from me once they finally get up to speed late in the gap lap. But getting there was torture. The guide said we were supposed to be at around 60% speed by turn 10, "Deception." Then we were to add some speed all the way to 15-16, "Faux Rouge" and maintain our gaps as we got up to something resembling full speed exiting the Sinkhole and heading through the esses to the main straight. But what actually happened was we would crawl all the way through the back straight, maintaining a whopping 30 MPH heading through Faux Rouge, nearly coming to a complete stop entering the Sinkhole. The problem for slow pokes like me was not that I didn't have a gap to the car in front of me, but that the fast guys, who were probably going a lot faster than those of us in the back on their out lap, were going to catch us before the end of our session, likely affecting both our last flying laps. And that's exactly what happened.
Friday was more of the same. We'd go out and get all bunched up late on the out lap, get barely up to full speed by the time we got back to the main straight, and have the fast guys in our mirrors before the end of the session. We'd finish up, go to impound, and our coach would accuse us, correctly, of screwing up our gap lap. Yes, we said, it was nothing like what the video showed. Get it right the next time, he said, and we'd go out and do the exact same thing.
This didn't matter much to me. Knowing I wasn't going to be competitive, I was treating this like four track days where we all happened to have transponders on our cars. After that first session, I didn't even look at the results after each time out because it wasn't important where I was relative to others in my class. I had my own lap timer on my phone so I could see how I was improving lap to lap, and that's all that was important to me. That way I wasn't too bent out of shape if I had to give up a fast lap to let faster guys go ahead on through.
Saturday was different, where we were doing "Tracksprints" instead of lapping on the full track. Tracksprint is kinda like autocross where we drove one at a time over a portion of the track from a standing start. I thought I'd be OK at this, but in reality it wasn't that great. It was a little brisk and I wasn't too thrilled with tackling some of the faster, riskier bits of the track with cold tires and cold brakes trying to nail a good time. There were probably more incidents during one day of Tracksprint than there were in three days of open lapping. I got agricultural once in the afternoon session, blowing the last corner off the main straight and enjoying the smooth trip through the grass.
If they skipped Tracksprint in the future, I'd be OK with that. But they say that it's pretty popular with other participants, so they'll probably keep doing it.
On Sunday we were back on the big track, this time for two shorter sessions. Instead of running for 20 minutes at a time, we got an out lap, three flying laps, and then back to impound. For slow pokes like me, that's still pretty close to 20 minutes. Each group was cut in half so - theoretically - traffic should be even lighter than before. It was even better for me, since I was the last car in the group. There is no way I should get anyone in my mirrors for these crucial three laps.
Sunday morning was probably going to be faster than Sunday afternoon since the afternoon was supposed to be quite a bit warmer. In that morning session, I had a decent first lap, finally breaking into the 2:39s after starting the weekend at 2:47 and slowly making progress towards the 39s. On the second lap, I was surprised to see an Exocet in my mirror. How did this happen? The driver of that was pretty aggressive on my back bumper so I gave up that lap before turn 9 and gave him room to get by. So I had one more shot at nailing a fast lap.
About halfway through that last lap, I had another car catch me. A Focus ST showed up in my mirror and I was livid. How did it get there? Was it the first car in grid that managed to catch me in two and a half laps? Was he flying on his out lap while us in the back were still slow and bottled up well into the second half of ours? Or did he pit to try and get clear track, and get released shortly after I passed pit out? I didn't know and, frankly, I didn't care. The Focus was on my tail as we approached Faux Rouge and I decided that this one time, I was going to be the jerk and I wasn't going to let him pass. My lap timer showed I was half a second better than any previous lap and I wanted to see that improvement through to the checkers. If the guy was going to be pissed at me and give me grief about it in impound, I was pretty OK with that.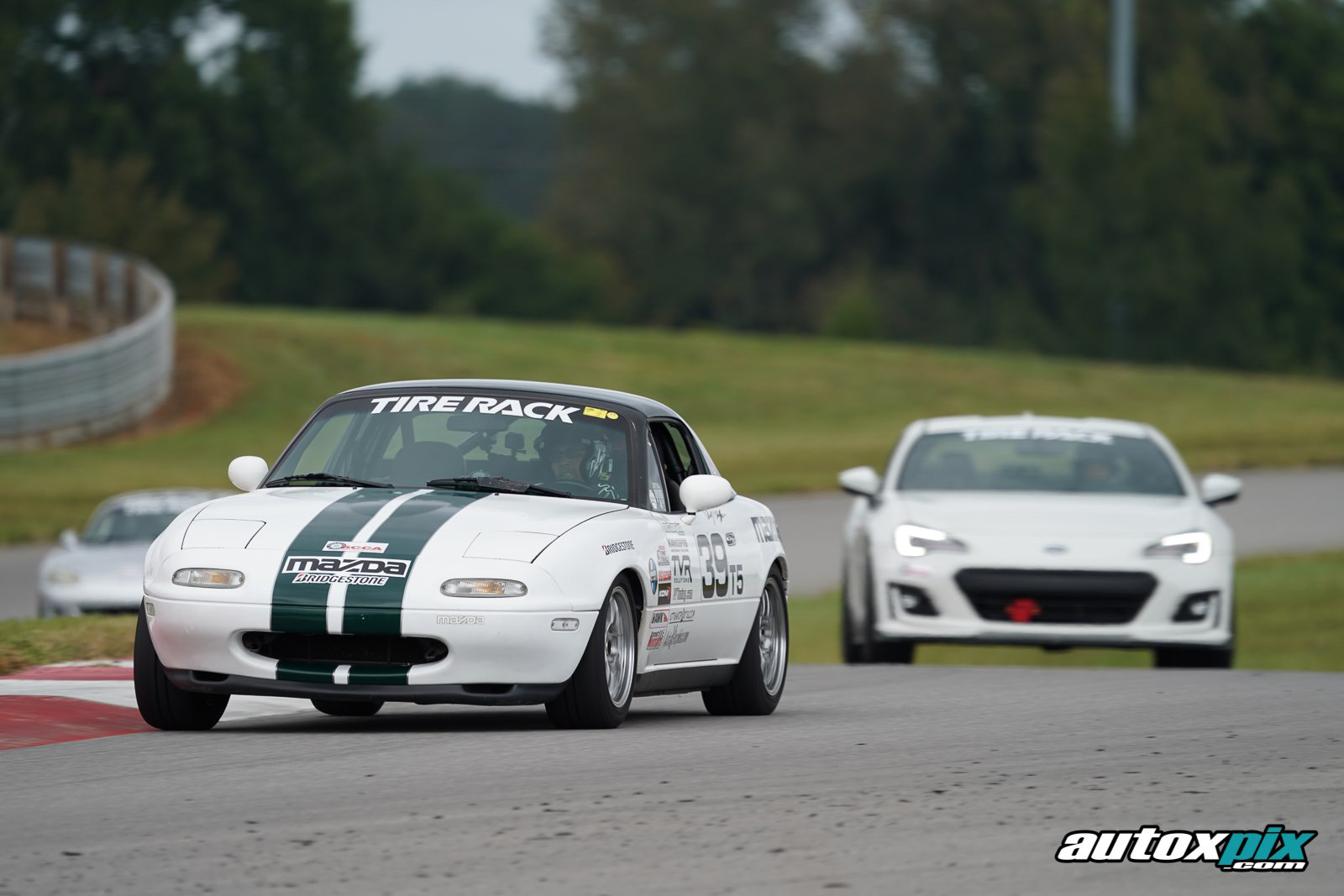 That last lap was a 2:39.1 and I was pretty happy with that. The Focus passed before start-finish and he didn't shoot me the bird on the cool-down lap. He also didn't say anything in impound, so maybe I didn't commit the high crime I thought I did. Anyway, we went back out for the Sunday afternoon session and, as I expected, I didn't go faster. And that wrapped up my Time Trials Nationals.
The results were not impressive. I was 14th out of 18 in class, beating two drivers on time and two who didn't complete every timed session. 191 drivers completed every session, and I was 181st out of that group. But the most important mark of success was achieved: I drove Slow onto the trailer under its own power and with all the body panels in the same shape they were when I unloaded it. I got to play on a race track for four days, hang out with new friends and old, and had a great time.
NCM Motorsports Park is an impressive track. To go fast, it requires having significant trust in the car and the driver's bravery as there are a couple hairy corners where, in a low-power car like mine, they're taken almost flat out. Turn 15, theoretically, could be taken with just a lift. I doubt I ever took that without a little chicken brush of the brake pedal. The last quarter of the lap involves diving into the Sinkhole and then climbing out, then taking a series of Esses that lead onto the main straight with you pretty much staring down a concrete wall. Taking that last right-hander could be done flat if I set up the preceding corners well, but it took me all weekend to get to that point.
Captain Slow was fantastic at NCM. Yes, it was slow, but it was predictable and planted. It was also trouble-free, and the only time I needed to break out any tools was for when I wanted to pull the wheels and look things over after a busy Thursday with three sessions. I found most of my time between sessions spent just cleaning the car, or cleaning the truck, or napping in a comfie chair. That's not a bad way to spend four days at a track.
Overall, I had a great time at TT Nats. The track was great, the people were great, and the barbecue dinners were great. I was not competitive, but I knew that this would be the case even before I signed up. I don't know if I'd go back, though. Assuming 2021 sees things start to return to normal (and this is a big assumption in mid-October 2020), autocross will return to our primary motorsports activity. This means fewer track events - probably just more at Dominion and maybe a return trip to Lime Rock - if the autocross schedule allows any. If the stars align and I'm granted permission to go back to NCM, I probably will. But I don't think I'll beg for that permission.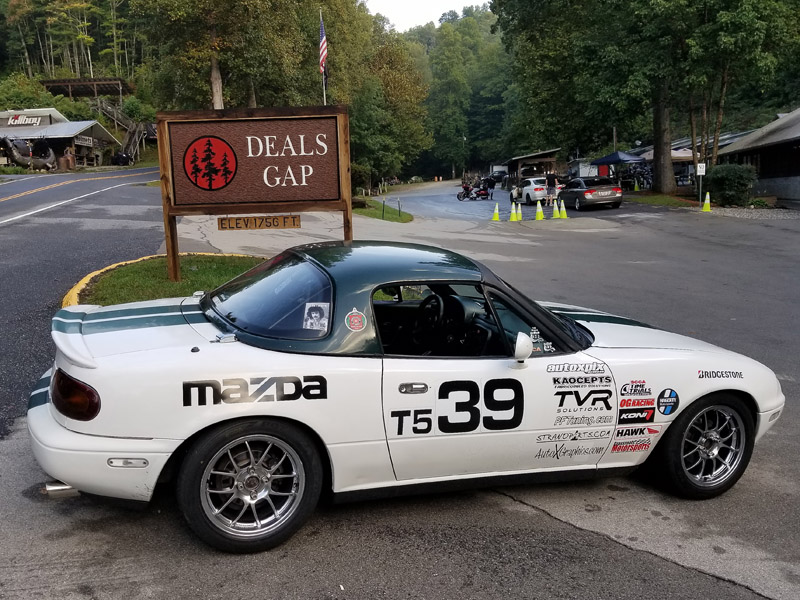 Having said that, I still had one more day of fun ahead of me before returning home.
I haven't been to the Tail of the Dragon in four years and change, but I got permission to make the side trip on the way home to make a return. I made it to Lenoir City, TN Sunday night and was up and at 'em bright and early Monday morning. I made it to the Tennessee end of the Dragon at 9AM and unloaded. The road was wet but the sun was out and things were drying out slowly. I took the first pass to Killboy's store nice and easy, taking care of photo opportunities at the overlook and the motorcycle resort.
All told, I made three round trips up and down the Dragon. There wasn't a ton of traffic there, but more than I expected for a Monday morning. The cars and motorcycles that I did run across were good at getting out of the way, so that was nice. But as the morning went on, traffic got heavier and a lot of it was Harley-Davidsons. Catching those things one at a time isn't too bad, and they'll usually pull over and let me pass. But if there's two or more in a group, forget it. I got stuck in a conga line behind a small group on my last pass and decided it would be a good time to call it a day and get loaded up before it got any later. Slow was on the trailer and I was heading back home right around lunchtime.
After 175 miles of NCM track driving and 66 miles of Dragon slaying, Slow's week had come to a close. I bet it could use a vacation to recover from its vacation.